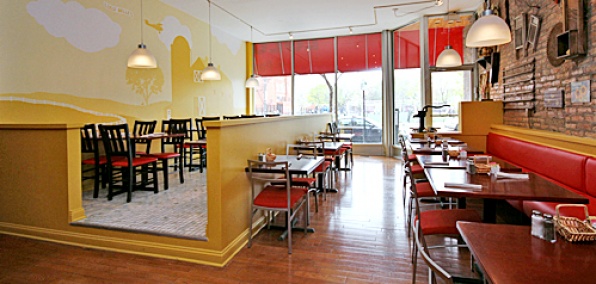 You've heard the one about the farmer's daughter...
Nice girl. Looks great in overalls. Makes one mean crepe. And tomorrow morning, she's cooking you breakfast. No joke.
Meet Lulu Belle's Pancake House, which is like eating in a 1920s Peoria farmhouse... if it had running water, wi-fi and convenient Wrigley Field access, slated to open tomorrow.
When you walk in, the farm theme may hit you over the head like a shovel. Literally: rusty farm implements adorn the walls, so don't lean too far back in your chair. While servers really are wearing overalls, Lulu Belle is less a real person and more a state of mind, conjuring up simpler, pre-nutritional label times. When your french toast came deep-fried. When your waffle had two slices of country bacon cooked inside of it. When someone could order something called hoecakes without sniggering.
Of course, while rushing to work in the morning, you can just come here for a cup of coffee and the Flapjack Sandwich (yes, as in flapjack-bacon-eggs-flapjack). Also, since Lulu Belle's dabbles heavily in lunch, offering the likes of burgers crowned with a fried egg and thick country ham, it's a nice choice for a quick pregame bite. You know, just in case you're (cough, cough) calling in sick for the day.
Cubs Fever is now listed in the Physicians' Desk Reference.