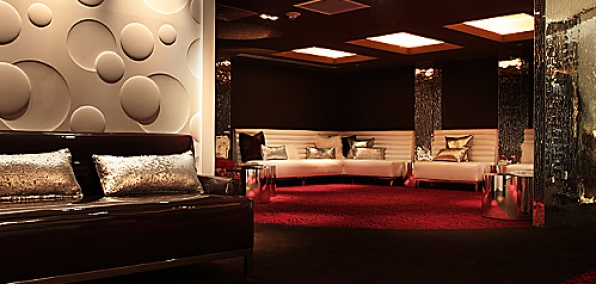 The wine bar.
Low lighting. Intimate wine rooms. The subtle whispers of Sinatra all around you.
You're a fan.
And today we bring news of a wine bar that's... absolutely nothing like that.
Introducing
Dee Lincoln's Tasting Room & Bubble Bar
, a high-energy wine lounge with the area's first champagne-dispensing machine, opening tomorrow.
We'll just come out and say it: this place is magenta, shiny and... bubbly. The chandeliers, the tables, the walls, the strobe light projections on the walls—all bubbles. But stay with us.
So on a night when you want just one glass of wine—but with lots of refills—you'll head to the Rosewood. You'll step into what feels like a South Beach club with white marble floors, white leather sofas and mirrors lining the walls. It's all centered around two Enomatic wine dispensers—basically tall glass cylinders with taps for vino and champagne. Think of them both as soda fountains, but with Dom Pérignon available two to six ounces at a time.
Your curiosity will take you up spiral stairs to the second level with magenta and brown zebra-striped floors and a long white bar
. (Don't worry, there's another wine dispenser.) You'll want to grab a sofa by the wine cellar and order some caviar and smoked salmon parfait.
We won't tell them about your caviar-dispensing machine.