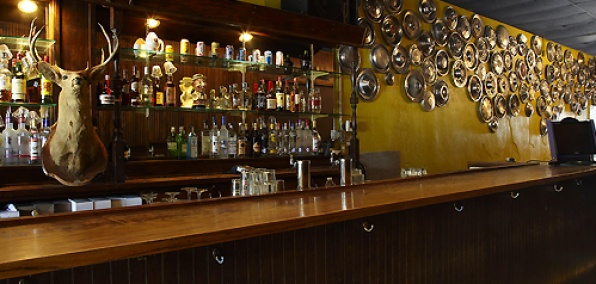 Warning.

You're about to enter the second coming of an untamed 1970s mobile home bash, in all its mulleted splendor—packed into one tiny bar.

And it involves Boone's Farm martinis...

Presenting Single Wide, a new Greenville hole-in-the-wall with more than a little trailer park charm, soft-opening tonight.

You're no doubt familiar with this place's showier sister bar, the Double Wide in Deep Ellum, with its infamous yellow floral wallpaper covered in taxidermy and hubcaps. Now cut it in half, add an Elvis pinball machine, and you've got this place.

So say you're having one of those days—the tie's just a little too tight and office schmooze levels are at unbearable highs. You need an escape. That's when you'll slide into this dive, retreat to the long wooden bar and order up a can of Lone Star or maybe some Jester King on tap.

And for more intimate evenings—nothing sets the mood like mounted deer heads—you'll settle into the well-aged leather couch, preserved in duct tape. For her: a Boone's Farm Martini. For you: a Yoo-hoo Yeehaw, a sort of White Russian mixed with Yoo-hoo.

You always knew Yoo-hoo would serve a higher purpose.