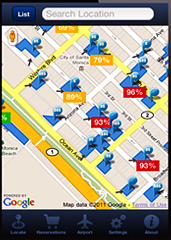 The thrill of the hunt is a magical thing.
It's inspired you to chase tigers in Bangladesh, track down Kobe beef in Budapest and hunt for a decent Nic Cage flick at the multiplex.
But one quarry remains the most elusive of them all: the perfect parking space.
So say hello to Parking in Motion, an app that lets you reserve parking places over the phone, now available.
Think of this as OpenTable for parking spots. And then imagine the following scenario: you're driving through downtown Chicago. You've got minutes to spare before the start of a small, intimate gig with the living members of the Beatles and the Who (aka the Whotles). You need a space, fast—you and Ringo are singing the opener.
You'll pull out your phone and bring up a map of all the garages in the area. Find a spot, and you can pay for it through your phone, ensuring that the garage doesn't fill up before you can get there. (Ringo would never forgive you.)
At the moment, your options primarily include lots in LA, San Francisco, Chicago and a few dozen airports across the country. But by this time next year, they should have more than 1,000 garages on board—along with a way to monitor sidewalk spaces.
You'll still have to parallel park on your own.