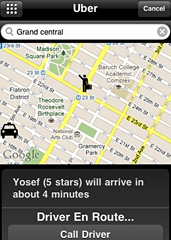 Good help is hard to find.
Your private sandwich chef: routinely overdoes it with the Grey Poupon.
The live-in butler: can't feather dust to save his life.
And your majordomo: on the verge of majordemotion.
So before things get any worse around the manse, you should take proactive measures. And crowd source the chauffeur.
Presenting
Uber
, a landmark breakthrough in automotive servitude that'll turn an entire fleet of luxury black cars into your personal valets, now secretly in beta.
Consider this a banner moment for the privatization of public transport. An app you'll download to your phone that functions as an express town car delivery service/tracking device for anywhere in the city.
In order to start chartering leather chariots to Atlantic City, East Hampton and the far reaches of Brooklyn, you'll need to register an account and get your credit card on file. With this done, you'll: A) never have to speak to a dispatch again, and B) gain touch-control over the entire flow of New York traffic. Or at least every nearby Lincoln Continental.
So you'll select a car, receive a text confirmation and follow along on a live map as your ride approaches (it's the homing beacon you've always wanted). And while you wait, take a moment to review your driver's Uber rating, contact info and name.
Though he'll answer to Benedict Puddiecombe regardless.