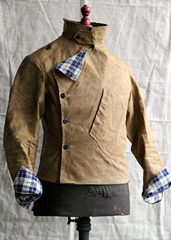 Brando.
Revered method actor. Staunch proponent of the white T-shirt. Adept screamer of female names.
Maybe the one thing he wasn't: a loose cannon WWI fighter pilot.
Let's pretend he was...
Introducing
De Rien
, a new line of English jackets made with WWI-era materials that fit like a classic Brando bomber, debuting stateside this weekend at Feal Mor.
Think of these like a sort of edgy bomber jacket you could actually wear on a brisk spring evening in LA. They're made with waxed cotton and the lining's light, so they'll work for a fashion-y barbecue when you'd be too cold in just your T-shirt but leather would have you sweating bullets.
And each is basically one of a kind, since every De Rien piece is handmade from workwear that could be a century old—with maybe some '50s-era houndstooth wool from Harrods lining the inside. Translation: you're not going to show up in someone's Eastside backyard after sundown to find five other guys sporting the same jacket.
And if you come by Feal Mor's La Brea store on Saturday, they'll have plenty of gratis samosas and martinis on hand to kick off the launch.
You never shop without samosas.