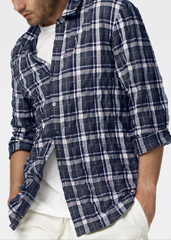 Spring is here.
And after we rooted around in your closet last night, we noticed you're due for a casualwear overhaul.
Ideally involving Japanese cotton.
Which is just what you can land now that LA clothes makers
James Perse
have opened their first store in Boston, in the Back Bay.
Now, we know that places like Saks already carry some of the James Perse basic lines (puffer vests and cooler-weather jackets, cashmere sweaters, knits, hoodies). And good news: they're carried en masse here, too.
But as you stomp around the Brazilian-wood floors in this shop, you'll be happy to know that this is the only place in Boston to carry the brand's complete season offerings for men (and yes, you too, ladies). Think: cotton cargo pants, lightweight Japanese cotton tees and button-downs using suprema cotton, the highest quality of cotton there is (at least on earth).
Also only here: the Boston Collection—items picked specifically for the New England life, like canvas pants, drawstring cargo shorts, SeaVees slip-on shoes and desert boots.
If you need home stuff
, they've even got some sleek beds, lounge chairs and benches.
This won't be the first time you and your chairs have matched.