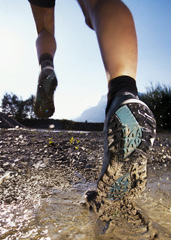 This weekend: you'll be sweaty. You'll be covered in mud. You may be wearing a mask.
But enough about your date with that performance artist.
We want to talk to you about a three-mile race that will have you getting down and dirty.
Introducing the
WildFire Adventures 5K Mud Run
, open to the public for the first time and now taking registrations for this Saturday and Sunday in Gaithersburg.
This is the kind of diabolical course through the woods and over obstacles that a firefighter might dream up. In fact, it is: the organizer has designed the DC Fire Department's physical training programs.
First step: you'll
register online
and sign a waiver (a key ingredient to weekend fun) for one of 11 time slots of 75 minutes each. Note: some time slots are "costume optional," so it might be a good time to pull that Thor outfit out of storage.
Then, you'll make your way to a small lake at Seneca Creek State Park and test your mettle with up to 100 fellow racers as you navigate hills, water, eight-foot-high walls and an obstacle of steel drums that simulates a chase down an alley (another ingredient to weekend fun).
As you approach the finish line, you'll ride a 60-foot slip-and-slide down a hill into the lake, only to come out and traverse a giant mud pit. Your reward at the end: a picnic area complete with a beer garden and gratis snacks.
And, hopefully, a hose.