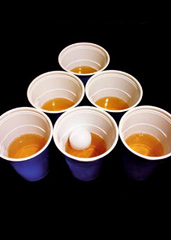 It's finally here.
The brackets. The buzzer-beaters. The sweet sound of the ball splashing through draft beer.
The tournament... of beer pong.
Introducing
Beer Pong Night
at Brackets, a refined evening of single elimination Beirut tournament madness, this Monday and every Monday going forward.
Since your eligibility is gone (and you hired an agent), this is your best option for a little competitive hoops in March. And by hoops we mean Solo cups.
Come Monday, give these guys a ring and put your name on the list for the tourney. Only the best make the tourney (okay, so it's the first 10 teams to call). Then you'll want to grab a few ringers, and around 5pm you'll show up to this cathedral of bar games. Fight the temptation to play Wii, shuffleboard or darts—the key to victory is focus.
After a few pregame garlic knots, grab a pitcher and enter the center pit, home to two ping-pong tables. Here the madness will begin as you and your team attempt to cruise through the quarters and the semis to the championship game—all with beer in hand. And should you emerge victorious, your prize will be two 32-ounce beers and 30 wings.
No, you're not allowed to cut down the nets.