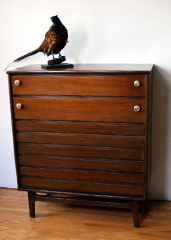 Eames. Noguchi. You.
Your sense of style puts you in some pretty good company.
However, scrounging thrift stores, antique shops and Swap-O-Rama looking for your next great mid-century coffee table generally does not.     
So we know a pair of guys who can help: introducing
Manly Vintage
, an online shop of highly curated vintage furniture specially selected for the discerning gentleman.
It's run by two eagle-eyed furniture connoisseurs who are passionate about two things: 1) great furniture, and 2) making sure you're not the one digging through the dusty back rooms, morbid estate sales and strange websites looking for it.
That means they're selective in what they sell at this shop, basically choosing items they think would look good in your loft/three-story walk-up/penthouse. Depending on the day, you could find treasures like an early-20th-century apothecary cabinet that's perfect for displaying your precious vinyl LPs and/or your famed ether bottle collection. Or perhaps you'll encounter 1950s Scandinavian chairs—no Allen wrench required—to finally complete that teak dining room set you've been working on.
If they don't have exactly what you're looking for, you can give them an idea of what you need, and if they see it the next time they're out hunting treasure, they'll snag it for you.
It's the online equivalent of calling dibs.