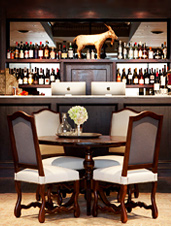 We're going to operate under the assumption that the names
Holeman
and
Finch
resonate with you by now.
We're also going to assume you like to drink drinks.
So while you're always up for the kind of smoked-egg-white-infused, celery-bitters-dashed cocktail glory that only H&F can provide... there's just one problem.
Their bar is way better than yours.
Problem solved. Behold the inevitable rise of
H&F Bottle Shop
, a DIY annex from one of the country's most lauded cocktail houses and your new secret weapon for home bar one-upmanship, slated to (finally) open in early March in Buckhead.
This is basically what would happen if you packaged up the trade secrets, epic back-bar arsenal and overall genius of every Holeman & Finch drinksmith... and turned it into a store. Actually, that's exactly what happened—all to the sweet tune of about 240 bottles of liquor, 30 craft beers and 250 wines.
Once you've breached the doors (which happen to be randomly tucked away in the Peachtree Battle shopping center), you'll find yourself surrounded by tasting tables flanked with white leather chairs and endless rows of dark wood shelves brimming with boozy oddities like High West "Bourye" whiskey and Banks Five Island white rum.
And since your home bar deserves nothing but the proper accoutrements, you'll also have full access to prepackaged cocktail kits, a laundry list of housemade bitters and, of course, a full selection of professional-grade bar tools.
And just like that... it's time.