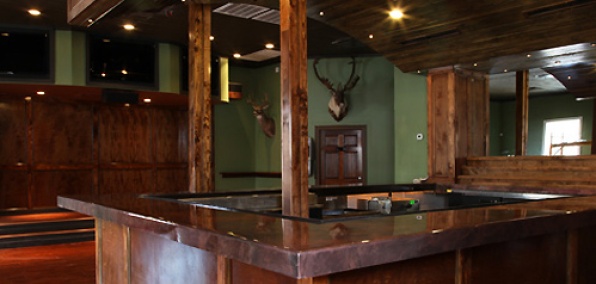 After today, you might never look at a patio the same way again.

Because today we're introducing you to a patio with a mechanical bull.

Behold The Trophy Room, a refined palace of local music, patio lounging and bull riding, slated to open this Friday.

If you've been to the one in Austin, then you'll know what to expect—a stage for live music. Lots of taxidermy. And yes, a mechanical bull. (Luckily, this isn't your first rodeo.)

So say you're craving a cold beer, some Tom Petty and a showdown with one mean bucking machine. Head to this orange house and step inside what looks like Ted Nugent's man cave: brown and green walls (think camouflage), stuffed deer heads (these would be the trophies) and a ceiling that looks like the inside of a whiskey barrel.

Order a round of Shiners, and head back to that large stone patio. That's where you'll hop on the black-saddled beast—go ahead, call it Silver—surrounded by a giant, circular, inflatable pad. Put on a brave face, give a nod to your adoring fans and give the bull operator a quick signal.

Just try not to spill your drink.