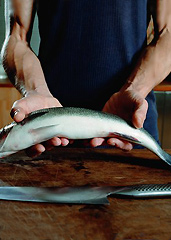 You've always been a bit of a do-it-yourselfer.
The hot tub minibar. Your ping-pong/chess room. Your hair.
All your handiwork.
And now, we'd like to point you in the direction of yet another diversion to add to your ever-expanding DIY portfolio... dinner.
But first up, some fly-fishing.
Welcome to
Catch, Clean & Cook
, a chef-led fly-fishing excursion turned hands-on dinner party, now taking reservations at the Montaluce Winery in the North Georgia Mountains.
After recruiting up to seven of your fellow hunter/gatherers (or a particularly adventurous date), you'll want to make your way up to Dahlonega, where you'll promptly convene with chef Steven Hartman. Once the proper introductions are made (don't forget to shake his beard's hand), you'll gear up and head out for four hours of fly-fishing and trout-bagging on the Etowah River—don't worry, he'll teach you if you've never done it before.
From there, you'll collect your bounty and head back to the winery's demo kitchen for some wine, hors d'oeuvres and a demonstration from Chef Hartman on how to properly clean and fillet your catch. Post-demo, you'll sit down, summon another glass of wine and enjoy the fruits of your labor in the form of a multicourse chef's-whim dinner centered around the very same trout you pulled from the river an hour ago.
Your inner Ted Nugent is smiling upon you.