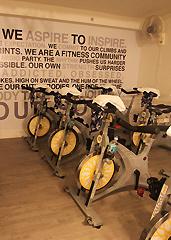 You've done your share of cardio.
You've completed biathlons (running, biking). You've participated in quadrathlons (swimming, biking, running, snorkeling). And there was that grueling three-day weekend you spent with members of the Miami Heat dance squad.
But in 2011, you're going to need something different. Something with a big-city pedigree and enough calorie-burning to keep Kanye interested.
We've found just the thing.
Presenting
SoulCycle South Beach
, a swanky fitness import from New York focusing exclusively on insane spinning classes, now open at the Mondrian in South Beach.
Imagine your typical spinning setup: stationary bikes, water bottles, gym bunnies wearing "In It to Spin It" tees. Now move all that into a sleek white-on-white third-floor studio at the Mondrian, where floor-to-ceiling windows open out to West Ave, Led Zeppelin blasts from crystal-clear speakers, and night classes are lit by massive candles (consider it half-workout, half-séance).
The class: 45 minutes of intense pedaling (steep hills, hard sprints), guided by a cycling master who's part motivational speaker, part drill sergeant. For the benefit of your arms, there's also an upper-body segment using one-pound weights (we're sure they'd make an exception and let you use 50-pound weights).
And if you get attached to one particular set of wheels, good news: you can reserve classes and bikes online.
Note: "bike behind beautiful person" is not an option.