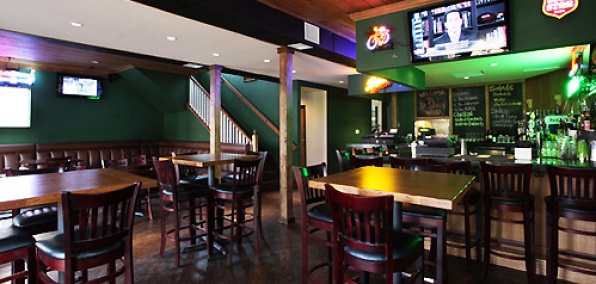 Here we are. First Friday of 2011. So you're probably thinking about one thing: law offices.

And their annoying lack of patio space.

Which brings us to St. John's Wood, a two-story law office turned Uptown watering hole, soft-opening tonight.

Now, despite its history of serving justice, the place looks more like the Lambda Lambda Lambda house from Revenge of the Nerds. They have four massive Greek columns outside and a javelin thrower named Lamar (okay, maybe no Lamar). Inside, you'll find two levels fit for lounging, with brown banquettes and sofas scattered around the green-walled floors.

So after work, you and your esteemed colleagues will come here for a beer and a burger. You'll start at the bar, where eight craft brews are on tap. Glass in hand, you'll climb the wooden stairs to floor two, where you'll claim a leather sofa amongst the 16 flat-screens and neon beer signs. There, you'll summon a jalapeño burger. As any good lawyer (or your stomach) would advise.

And before long, it'll be patio season, and you'll make your way to the rows of outdoor wooden booths and sip on a Firemans as the fire pit crackles away.

And you'll consider this great idea you have for your accountant's office...