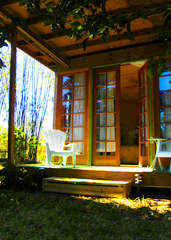 Penthouses. The Al Capone suite. Madonna's old bedroom at the Versace mansion.
You've enjoyed sleeping—and not sleeping—in all of them.
But this brisk weather calls for something more bucolic... and ideally, steps away from a six-course wine feast prepared by some of the best chefs in Miami.
Introducing the
Zen Bungalow
, South Florida's first B&B located on a farm, now taking reservations at Paradise Farms in Homestead.
You're probably already familiar with Paradise Farms and their monthly Dinners in Paradise, wherein top local chefs take turns concocting multicourse meals using the farm's generous bounty. And now, instead of making the 90-minute drive home after dinner, you can pad away to a cozy little cabin in the woods.
Your agrarian bungalow includes a bed, chairs and some quaint lamps. Your bathroom: an eco-outhouse a few feet away. Your shower: outdoors, made of bamboo.
And in the morning, as you awaken to the gentle swaying of avocado and mango trees, you'll be treated to organic fruit, yogurt and granola.
You can even grab an outdoor massage or take a dip in the lagoon pool before you head back.
Never pass up a lagoon pool.