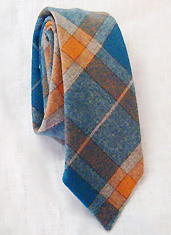 We've got an urgent, life-changing message for you. You're going to need a tie. And soon.
Holiday get-togethers. New Year's soirees. Semiformal ski jaunts. And you're going to need something tied jauntily around your neck, preferably something from Tennessee...
Introducing
Otis James
, a line of casually irreverent custom ties by way of Nashville, available now.
Consider this your rakish go-to for any upcoming parties, holiday or otherwise. There's a set of seven ties on the site (ranging from cashmere to some festive Pendleton wool models), but Otis also hand makes each tie to order—so if you want something skinnier or longer or with foreign launch codes woven into the lining, you should be able to work something out.
He's also got bow ties in the works for January and a line of traditional caps due a few months after that. What's more, he'll hand paint your name onto a tag on the back of your tie, in case you lose track of it after a night of tie-loosening passion.
Plaid can have that effect.