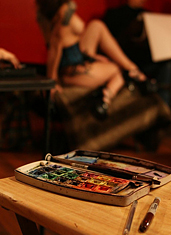 It's been happening right under your feet.
Yes, a clandestine assemblage of burlesque dancers, cabaret models and the occasional circus performer has been waiting for you.
At the Clermont Lounge.
And they want you to bring... pencils.
Welcome to
Dr. Sketchy's Anti-Art School
, an underground gathering of cold beer, clothing-impaired cabaret girls and the amateur sketch artists who love them (read: you), now holding court on the second Monday of every month at the Clermont.
If it helps, feel free to think of this as the hipster version of
Dead Poets Society
, just with more nude sketch art (and no, you won't be dealing with the usual Clermont... talent). Here's how the whole thing pans out: you and a few fellow adventure seekers/aspiring artists will show up to the humble house of Blondie with pencils, sketch pads and the 2011 edition of
Drawing for Dummies
in tow.
Grab a drink, scout out a table and prepare to meet your muse for the evening—a rotating cast of characters from Sadie Hawkins of Gold Room fame to gyrating belly dancers of... gyrating belly dancing fame. Either way, you're looking at three hours of pencil-pushing debauchery, just the way Mother Nature intended it.
We're pretty sure Father Nature might also approve.