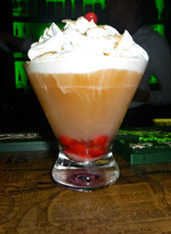 You like eggnog. You respect eggnog. You've even been known, on occasion, to consume eggnog.
And soon, you will again. And that's as it should be. But maybe a new drink could enter your holiday rotation.
Something with red hots. And whipped cream. Maybe some absinthe.
Oh, and something you light on fire.
Behold
The Absinthe Red Hot Cocktail
, a concoction of insanity that's pretty much exactly what it sounds like, available starting this Friday at, yes, Absinthe Lounge.
Now, we know what you're thinking: this thing is girly. Like,
Sex and the City 2
cameo girly. But stick with us, because absinthe is involved. Lots and lots of absinthe.
Your journey begins in an appropriately green-lit basement on South Lamar. Here, your mad scientist of a bartender will start by dumping a dozen red hots into a frosty glass. Then, she'll pour in a shot of the notorious green fairy. Then, the fire comes in—an absinthe-soaked sugar cube is briefly ignited above the glass, before being put out with water that pours into the drink. Finally, a couple drops of liqueur and schnapps are mixed in, then it's topped with whipped cream and finished off with a pinch of cinnamon-sugar.
The result: a nice hint of black licorice, followed by a cinnamon-y and peppermint-y punch.
Mixing with eggnog: not recommended.