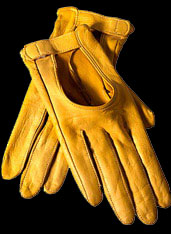 Rain today. Cold tomorrow. You know what this means: it's time to unleash your cold-fusion electric blanket on the world.
Also: it's time to wear gloves.
But not just any gloves. Something one-of-a-kind, perhaps, sourced from Equatorial Africa and assembled to your exacting specs.
Something like
LaCrasia Custom Gloves
, a bespoke way to steel your digits against the cold.
This is just what it sounds like—a tailor for your hands. And if you're looking for celebrity endorsements, they've stitched gloves for everyone from Madonna to the Beast from Broadway's
Beauty and the Beast
. (Ironically, the guy has very beautiful hands.)
Your first job: visit their site, which will walk you through how to take measurements of your hand (and your forearm, if a falconry-style gauntlet is what you had in mind).
Next up: decide on your style—white formal gloves for your next white-tie dinner with Obama, cashmere-lined winter gloves made from the aforementioned equatorial sheepskin or some red calfskin driving gloves for a little Burt Reynolds-style daredevilry (just make sure they don't clash with your chest hair).
Of course, sometimes you want even your hand fabrics to be one-of-a-kind. In that case, feel free to send them something from your own personal hide collection, and they'll make your gloves out of that.
Which means it was a good idea you wrestled that python in South America after all.