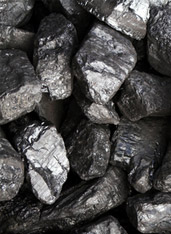 They say it's better to give than to receive. And you're not one to disagree.
Especially when your giving involves sending a dark, dirty message to your political enemies.
Introducing
CoalBama
, a revolutionary new holiday service that lets you send an actual lump of coal to whatever politician you find most (er, least) deserving, available now.
Yes, this is from the same folks who bring you CoalGram, which you may have used to send a gift-wrapped chunk of fossil fuel to one of your workplace enemies. But now they're turning their attention to an even more deserving class.
We know it's hard, but the first thing you need to do is select those politicians who you think most abused the public trust this year (the Appropriations Committee is always a good place to start). Then, for 10 bucks apiece, your legislator targets and their irksome voting records will receive a genuine lump of anthracite coal, enclosed in a clear plastic box and wrapped with a red, white and blue ribbon.
And before you start to ask if there's a card attached: yes, there is. It reads: "Please enjoy this lump of holiday coal as a token of my discontent for your political contributions."
But, not to worry. As the sender, you'll remain anonymous.
After all, you're throwing those same members a fund-raiser next week.