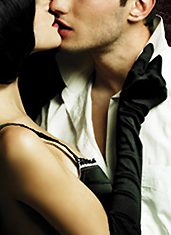 What you do with the following information is up to you.
But there's a secret online society that has been convening for illicit gatherings in empty lofts, on yachts and in a secret bunker underneath the Washington Monument.
And they'd like you to join them...
Introducing
iVoyeur
, a social network devoted to (shall we say) unconventional hookups, online now.
In short, it's like Facebook for the
Eyes Wide Shut
crowd. So instead of reconnecting with your long-lost high school lab partner—though you never know—you'll arrange for a night of sensual massage with a comely Danish couple in town for the weekend.
You'll start out with a questionnaire on the standard stuff—location, body type, safe word ("popcorn")—before connecting to a database of singles and couples. From there, messages and friending work just like Facebook... but with better party pics.
For now, you'll be picking from just under a thousand people, mostly in New York and the Bay Area. The list has been built up through referrals, and if you have any questions, you can seek wisdom in the "newbies" forum. (It's so hard to know which wine to bring to an erotic massage party.)
And then, every few months, the folks behind the site will throw a members-only bash, complete with masks, a secret location and things we can't even talk about on the Internet.
Let's just say there will be Twister.