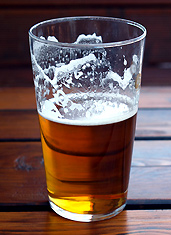 Ah, Deep Ellum.
The live-music haunts. The rooftop drinking spots. The option to get a tattoo sleeve every other block.
Practically the only thing it doesn't have is a charming little English pub.
Until now.
Allow us to introduce
Anvil Pub
, a new pint-drinking nook in Deep Ellum, slated to open this Friday.
With dark wood walls, exposed-brick columns and vintage light fixtures hanging above, Anvil feels like an old-world English pub plucked from across the pond and dropped in Deep Ellum. (With fewer Manchester United hooligans.)
So imagine it: you spill out of a concert this Friday. And instead of heading home, you find yourself needing a beer, a cozy booth and a place to break down the set list. You'll use your natural pub-finding instincts to track down a bright orange door on Elm Street (or you'll just cross the street).
Once inside, you'll make your way to a long wooden bar and order one of the 20 beers on draft. Brew in hand, you'll head to the opposite wall lined with red banquettes and take a seat next to some friendly alt-rock groupies.
And in the coming months, you'll be able to pair your Guinness with food from the green kitchen, which will be utterly greaseless and leave a smaller carbon footprint.
Thereby offsetting the gas used in your stretch Lambo.