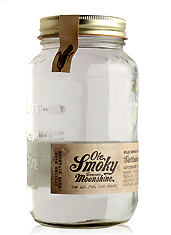 It's late. Outside, a full and clandestine moon.
Somewhere deep in the night, you hear the roar of an old engine approaching. Getting closer. Suddenly, a knock on the door. The sound of mason jars rattling precariously against each other. And then it hits you... your moonshine runner has arrived.
Well, actually, it's a UPS truck, but close enough.
Sound the banjos, cue the coonhound chorus, and behold the
Ole Smoky Moonshine Distillery
, Tennessee's first legal house of hooch and your new source for all things white lightning, delivered, now taking orders online.
First off, we should tell/warn you that this is the exact same old-school, 100-proof moonshine that bootlegged its way around the Smoky Mountains back in the day—only now, someone decided to start paying taxes on it.
And you've got a few options here (all of which may or may not result in immediate and involuntary beard growth), but we'd recommend starting with a mason jar of the
Original
, a hundred-year-old recipe that's said to have notes of buttered popcorn and honeysuckle. And yes, if you taste either of these "notes," you will undoubtedly find Jed Clampett somewhere in your family tree.
There's also the
White Lightnin'
(best deployed for mixing) and
Moonshine Cherries
, a jar of shine-soaked cherries that could quite possibly seal your fate as the mayor of Thanksgiving party favoring.
Just don't put any on the kids' table.