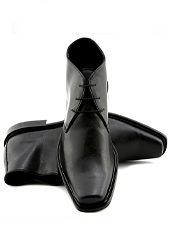 You have multiple pairs of soy pants.
There was that week your personal theme song was Stevie Wonder's "The Secret Life of Plants."
Your burgers: veggie. Always.
Okay, so maybe none of that is true. Except for the Stevie Wonder part.
But that doesn't mean you aren't open to some rad footwear—even if it was made with hemp, canvas and magical hippie fairy dust.
So allow us to present
Sudo Shoes
, the city's first-ever shoe store featuring completely vegan footwear, now open in Cambridge for all your cow-friendly shoe needs.
Basically, it's the Foot Locker for vegans. Opened by an 18-year-strong vegetarian who was fed up with carting his soy-filled person to NY to get some decent non-animal kicks, Sudo is stocked with a hearty array of hiking boots, sneakers and dress shoes that are 100% vegan. In other words: made with synthetic microfiber, canvas and hemp instead of leather, with recycled rubber for bottoms, and fused together using non-animal-based glue (horses: 1, glue manufacturers: 0).
If you dare step inside, you'll find smaller European-based brands like Bourgeois Boheme, biker boots by Novacas (literally means "no cows" in Spanish) and outdoorsy Patagonia trail shoes. But our favorites—by quite a margin—are the Converse and Saucony sneakers, made in smaller production runs than their leathery counterparts.
Go ahead, wear them to the steakhouse.