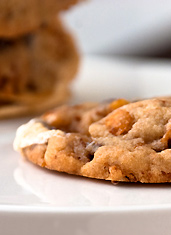 We're still a few weeks out, but Thanksgiving is already shaping up to be big.  
Grandma is trying out a new cornbread stuffing recipe. Uncle George is bringing the turducken. And you're taking that sexy unicorn you met on Halloween home to the folks.
Oh, and also
Crack Pie
for dessert.  
Your source for such a creation:
Momofuku Milk Bar
, slinging their Wonka-esque pies and cookie-filled tins nationwide, available online now.  
Like a brazen and revolutionary French pastry chef, or a bored third-grader at lunchtime, they have a knack for combining flavors that you may have only seen before in a fever dream: the chocolate chip, potato chip and coffee-filled
Compost Cookie
. The Thin Mint meets marshmallow brownie cheesecake
Grasshopper Pie
. Or
Candy Bar Pie
, which is sort of like the greatest hits from Halloween encompassed by a chocolate graham cracker crust, bathed in peanut butter nougat and covered in chocolate.
And then, of course, there's that
Crack Pie
. You shouldn't worry too much about what's in it (an oat crust, smooth yellowish, sugar-dusted filling with the consistency of pumpkin pie), but focus instead on the fact that when you start eating it, something may happen to you. Your eyes will automatically close, your thoughts will drift away, and you will only know one desire: more pie.
Note: no actual crack involved in the
Crack Pie
. Allegedly.