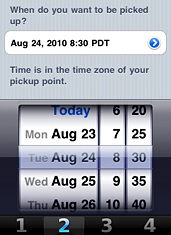 Hypothetical scenario:
It's late, and you've found yourself in the middle of a wild party at some producer's place in the hills.
Things got a little out of hand. An actress just fell into the pool. You're holding a towel.
You're not sure how you got here, but you know you're going to need to depart in style.
Introducing
Pinpoint Pickup
, an iPhone app that'll promptly get a shiny town car to wherever you are, now available.
Think of this as your secret weapon for those times when a taxi (or your friend's Kia) just won't do. It's easy to use: just download the free app, punch in when you need your driver to show and where you want to go (it'll know where you are based on GPS), and you'll get a price quote—all without leaving the dance floor at
Premiere
. Easy.
And because the app works with multiple pre-screened companies (so you'll be linked up with whoever's closest), they'll usually have a car to you within an hour. Unless it's a big night, like, say, Oscar night.
Probably could still work for SAG Awards night.