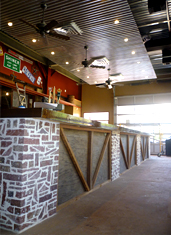 Today, we want to talk about the Wild West.
Specifically, how awesome the saloons back then must have been. The spittoons. The petticoats. The card games settled with shoot-outs.
But there's one thing they were missing: 3-D flat-screens...
Here to correct that oversight:
The Nodding Donkey
, a huge, relentlessly Western new sports bar in Uptown, slated to open next week for all your football-watching and
Back to the Future III
-ing fantasies.
Basically, this is the bar that Jesse James might've eventually created if he hadn't been gunned down by that coward Casey Affleck: there's a big set of longhorns on one wall, the center bar looks like it was swiped straight off the set of
Deadwood
, and the whole place carries the subtle whiff of brisket. (Plus: there are 18 flat-screens, including the city's first 3-D screen, with glasses.)
You'll want to mosey in with a posse, grab a table in the nearly all-wood environs and commence with the ordering of canned beers,
Donkey Punch
served in mason jars and comfort food-y vittles like
Deep-Fried PB&Js
,
Bacon-Wrapped Kobe Hot Dogs
and
BBQ Brisket Grilled Cheese
(courtesy of two huge meat-blasting smokers).
And because every good saloon has a place for borderline-illegal gaming, you'll also notice a nice-sized patio—connected to the interior by four glass garage doors that open up—with plenty of outdoor seating and two beanbag courts for Shiner-fueled contests of accuracy and stamina.
We recommend investing in a holster.