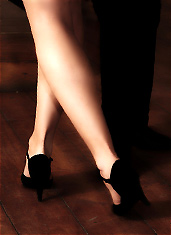 It may not be today. It may not be tomorrow.
But it will be.
Yes, soon enough you will find yourself in a place where the caipirinhas flow like water and the rhythm of conga drums calls to you from deep in the night. A Latin princess will emerge from a steamy dance floor and lean into your ear. Then she will say it: "Come... we dance."
And when that time comes, you will be ready...
Because now you have
Valeo Dance & Health Club
, your new secret weapon for achieving dance floor supremacy (whether you knew you needed to or not), now registering classes for next week's soft-opening in Buckhead.
Now, we know what you're thinking. And yes, it's dancing, but stick with us on this one. You'll start by picking a class online (salsa, Argentine tango, quickstep...). And once your decision has been made, you'll confidently breach the glass doors of the loft-like studio and bank toward the huge open dance floor to your left. That was the risk; now here comes the reward.
Because you will soon find yourself rotating through a series of co-ed (and unattached) dance partners as you burn up the floor in a harrowing display of Travoltian wizardry (or at least learning the basics while trying not to step on too many stilettos).
And if the dance floor equivalent of speed dating isn't your thing, they also offer Swedish massage and more intimate one-on-one dance lessons.
With these skills comes great responsibility.