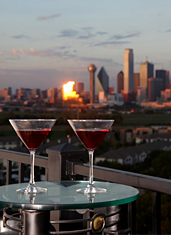 It's getting late.
Right about now, you're probably dreaming about getting out of the office, driving over to Oak Cliff, heading up to the rooftop of a 10th-floor condo and partying with 30 of your friends with a live jazz band.
We wish we could help. But the only rooftop space we know of like that is on the 11th floor...
Say hello to
Penthouse 1101
, two levels of outdoor rooftop penthouse-ness, now available for your next breezy, view-intensive private party.
So here's the deal: the owner of this particular penthouse has gotten tired of having the place all to himself (pimping ain't easy), and is now renting it out to people like you.
So you'll call him up and work out a time. And when that special day arrives, you'll enter the condo lobby, mention the words "penthouse party" to the doorman, step into an elevator and hit the button for the top floor. When you get out, you'll be standing on a multilevel rooftop that feels a bit like two staggered mini-helipads, only with bartenders and a three-piece jazz ensemble.
And because your proprietor/party host is also a bit of a singer, don't be surprised if you hear him leading the band in a cover of Lionel Richie.
Go ahead, request "Dancing on the Ceiling."