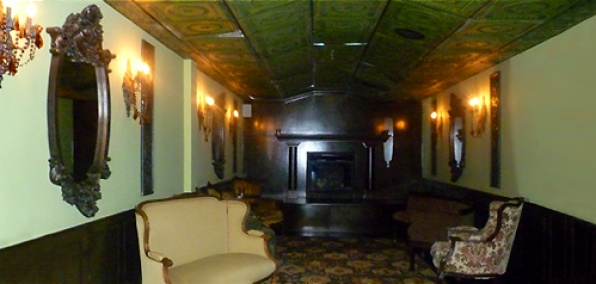 If Prohibition had continued until now, your world would be a lot different.

Mad Men would be pretty lame, your sock-flask patent would be fairly worthless, and you would have never discovered your love for queso sandwiches.

Thankfully, there is no Prohibition anymore. But if it ever makes a comeback, we wanted you to be covered.

So today we bring you word of Atwater Speakeasy, a two-level, speakeasy-type lounge tucked behind Cretia's, now open for private parties.

To get to this Boardwalk Empire-esque bastion of illicit cocktailing, you'll want to walk down a small, dark alley in Uptown until you see an unmarked door. You'll knock on it, and a gentleman—who may or may not be wearing a pinstripe suit with 1920s styling—will let you in.

That's when you'll step into a place that looks like something out of The Great Gatsby, only with a better sound system: dark yellow walls, gold light fixtures and, up on the second floor, a long wooden bar and lots of suede chairs around a fireplace. Consider this the epicenter of your secret cocktailing hideout, where you and up to 80 friends will throw back bourbon Old Fashioneds, crab cakes and calamari. (Nothing says gangster like finger foods.)

And down the road, there are even plans to turn this into a members-only lounge, where you need a special key to enter.

Or you could just never leave.