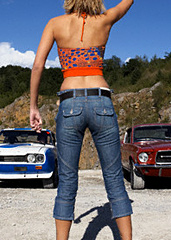 Some weather we're having here lately.
And we're no meteorologists, but next weekend's not looking too bad either.
Mostly because you'll be ripping around the Atlanta Motor Speedway in a 600-horsepower stock car.
Oh, and it's supposed to be sunny too...
Say hello to the
Richard Petty Driving Experience
, your shot at eight breakneck laps behind the wheel of a Nextel Cup stock car, now taking reservations for this weekend and beyond.
Basically, this is your chance to tear up the oval like Cole Trickle in
Days of Thunder
(and find out once and for all if rubbin' really is racin'). You'll start the day with a rundown on the finer points of mastering the track line, following distance and how good you're going to look jumping through the window of a stock car wearing a fire suit.
And once that's out of the way, you and your copilot (actual Richard Petty not included) will take to the track for eight laps of fury, reaching speeds of up to 141 mph while your adoring fans (also not included) watch from the grandstand.
The whole thing caps off with a closing ceremony where you'll receive a detailed lap-time sheet, your top speed reached and even a certificate of badassery to commemorate the experience.
You left it all on the oval.