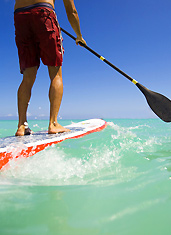 The Potomac's always been there for your most pressing needs. A fund-raiser on a boat. A vista from which to enjoy your brunch-time Bloody Mary. A spirited game of inner-tube water polo.
And now, surfing.
Introducing
Stand-Up Paddleboarding at Jack's Boathouse
, here to put a little Hawaii into your Labor Day weekend.
You've gone to Jack's when you needed a canoe in a pinch (you had your reasons). But now, things have taken a Thomas Magnum-esque turn. You'll want to don a floral shirt and sport your best 'stache as you head down under the Whitehurst and grab one of these longboards—which first cropped up in the '50s when Hawaiian surfers needed a better way to teach landlubbers.
On the dock, the staff will give you a basic lesson about balancing and paddling. Then, once you have the hang of it, you'll climb atop one of the surfboard-like vessels, grab an elongated paddle and set out on the river.
Your athletic prowess will be challenged as you try to stand up straight, stay balanced and keep your hips and core engaged—not to mention navigate past the kayakers and avoid the tourist-laden
Odyssey
. Once you do, you'll feel the sun on your face, the wind in your hair and the impressed stares of the Georgetown brunching set.
Those people love Hawaiian shirts.