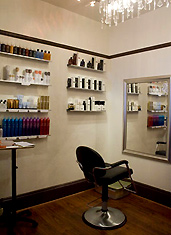 It's a fact: you love rum.
So much so that, sometimes, you just want to rub it all over your face.
At long last, we've met someone who shares your goals.
Introducing the
Rum Cut & Shave
, a new treatment for your face that's exactly what it sounds like, available now at Salon Belle de Soir.
We know what you're thinking: this is a waste of good rum. But stick with us. First, you'll step inside the salon, where you'll be led to a classic barber's chair. A barber will rest a hot towel on your face, and then... the shave begins.
So far, so traditional. But once the last swipe of the razor is done, they begin applying bay rum aftershave, recommended by the salon owner's bartender friend in Vegas. (As the best grooming treatments so often are.) The rum's a natural astringent, so it'll tighten your skin back up after it's been loosened by warm towels for the shave. (You hate loose pores.)
So your face doesn't have all the fun, they'll pour you a splash of rum for before, during and/or after your shave. And should you (or your officemates) have trifling concerns about you reeking of booze, you'll get a final hot towel application.
Though we're not sure that'll do anything for rum breath.