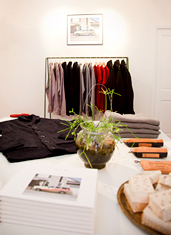 It's not Friday, exactly.
But Tuesday isn't too early to think about the weekend.
And while you're not exactly going to plan every little detail, you should at least be prepared for whatever brunch, late night or yachting situation might get thrown your way.
Which is why you should know about
Conifer
, a store ready to suit you up for a life of leisure, open now in Cow Hollow.
Now maybe you've been introduced one way or another to Conifer as a new women's boutique up on Webster, and it is. But, as of this weekend, they've started to shift their focus to your desires, your aspirations and your overall handsomeness. In other words, you'll find racks of field jackets, sweaters and button-downs from heritage labels like Relwen.
You'll also find a good smattering of rugged outerwear, Moscot sunglasses, some rugbies from Rogues Gallery, hoodies from Woolrich and denim by Rogan.
And feel free to not wait for the weekend.