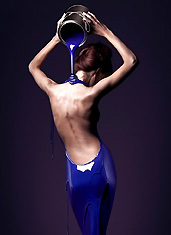 Consider, if you will, the arts.
And while your thoughts are drifting to Picasso, dogs playing poker and guys named Garfunkel, consider this...
The human body. Doubling as a canvas. Without the uncouth hindrance of clothing.
Which brings us to
Bodies as a Work of Art
, a living art gallery cleverly disguised as a runway show, coming to you this Monday at the Cheetah.
Yes, that Cheetah. But for one night and one night only, the main stage will be cleared, the Nickelback will fall silent, and some of the city's most talented artists (and models) will have their run of the place.
Your evening begins with a few gratis cocktails and dinner from Alluvia (your go-to for adult fine-dining), but stay focused: you're here for the arts. And before you know it, the arts will take to the runway, wearing little more than a few shades of au naturel (oh, and some paint).
The majority of the body painting will be done backstage, but some of the final touch-ups will graciously be executed right before your eyes on the stage before a six-member panel judges them based on technical competence, aesthetic appeal and best use of a fire-breathing serpent on a 6′ 1′′ blonde.
That's a lot of serpent.