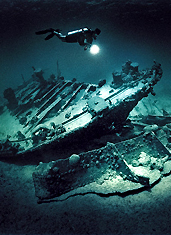 You've got a thing for adventure. It's your middle name. Or one of them, right after Fitzgerald and Lesley.
But we've noticed your repertoire of Cousteau-ish tales involving you and the open sea has begun to dwindle a bit.
Here to lay the groundwork for the next chapter in your book of seafaring yarns comes
Northern Atlantic Dive Expeditions
, a shipwreck dive outfit now taking reservations for a two-wreck escapade next Sunday off the coast of Scituate, Massachusetts.
Think of this as your reason to dust off that dive gear tucked under those spare towels in the closet (or to finally fulfill that promise you made after seeing
Titanic
, and get certified to dive).
Upon signing up, you'll head to Salem and join the husband-and-wife captain team taking you off the coast of Scituate for a five-hour odyssey involving two wrecks—one, a sunken oil liner; the other, a schooner boat—both sleeping comfortably 100 feet under the ocean.
You'll spend the day exploring inside the hulls and examining the wreckage, and maybe even coming up with your own theories as to why they sank (the Bermuda Triangle won't really apply here).
You'll also be happy to hear that an onboard BBQ will be served in between wreck dives.
It
is
Sunday, after all.