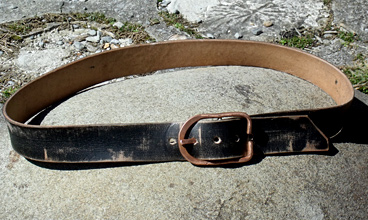 Some things just belong together.

Fridays and rooftop drinking. Angelina Jolie and your eyeballs. And, of course, belts and moonshine.

Allow us to explain that last one...

Introducing Cause and Effect, an old-fashioned hardass belt line out of East Tennessee, available now online.

Now, here's what you need to know. There is no office. There is no website. There is no store. There's just a man—a self-described "hillbilly"—in Tennessee, and you'll have to email him to request your belt.

Once that happens, here's what he'll do. He'll take a strip of leather, and let it sit in a stream near his house (near the North Carolina border) for a few days. After that, he'll take it to a parking lot and beat on it with a hammer, to give it a hard-edged shape. Finally, he'll let it sit in the sun for a few more days, to age it naturally, and then add a buckle—made using a similarly painstaking process. Once it arrives, the ruggedly handsome leather belt will have been worth the wait. Imagine the kind of thing Butch Cassidy or the Sundance Kid would've used to keep their pants up, or you would use on the weekends.

Oh, and if you happen to run into Billy somewhere—his line's due at Steven Alan this fall—he might just pour you a dram of homemade Tennessee moonshine.

Which is why you should carry a mason jar at all times.