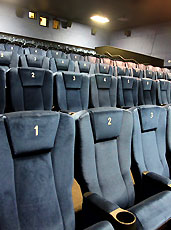 Drinks and a movie.
Until now, the two were mutually exclusive. (Not counting your popcorn-box-shaped flask.)
But we think it's time you were able to enjoy a beer (or wine, or a martini) in the comforts of your seat, ensconced in the cool embrace of cinema and industrial A/C.
Welcome to the lair of stadium seating and cocktails known as
Paragon Grove 13
, now gearing up for its weekend debut in Coconut Grove.
At first glance, this looks like your typical movie house—albeit one with modern touches like 3-D movie screens, plush chairs and Sony Digital Cinema 4K projection. But once you make reservations for this weekend, you'll realize what's different here.
First, you can actually choose and reserve your seats in advance, so there's no fear you'll be stuck with front-row neck cramps should you spend too much time at the concession stand. And you and your date will probably want to take your time there, considering that they've got a fully stocked bar with beer, wine and cocktails.
Plus, you're encouraged to take your drinks inside the theater with you, and revisit the bar often.
Hey, whatever it takes to get you through
Babies
.