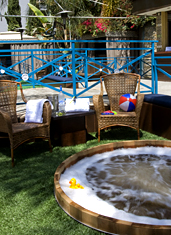 The best house parties don't even require a house.
Just some sun, a little grass and a lot of champagne. And maybe some squirt guns and massages.
Welcome to a pop-up outdoor club called
Beachwood
, now open for the summer in Hollywood.
Here's the deal: every Saturday from now until September (or thereabouts), you'll be privy to seven hours of laid-back California partying at what looks like your wildest producer friend's backyard. Come by around noon—just look for the surfboard above the old Cabana Club entrance—and settle into a breezy cabana for brunch. It comes with bottomless mimosas until 2pm, so things won't stay quiet for long.
Soon you'll notice the music getting louder. Bottles of Dom arriving with a squirt gun on a silver platter. And ladies in skimpy bikinis showing up on the dance floor (for convenience, it's equipped with a mist machine). And if you need to loosen up a bit before you hit that floor, step into a dark room for a quick $20 massage.
You'll also be happy to hear they've got two VIP sections, right in the middle of it all, each with their own personal hot tub. That should keep you busy until sundown, when it all spills out into the streets... and you're off to start your Hollywood night.
This is how Bob Seger did it.