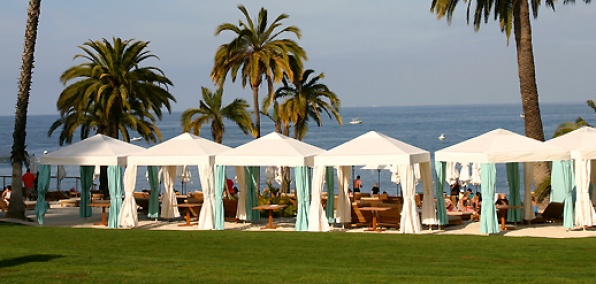 You'll go a long way for a burger on the beach.
But you'll go even farther if, instead of fries, it comes with a massage in a private cabana.
And maybe supersized with some free Wi-Fi and a kayak.
So we thought you'd like to hear about the new incarnation of
Descanso Beach Club
, now open on Catalina Island.
Basically, this is an island lunch spot that has been completely reimagined as an all-day beach retreat. You'll want to head straight for one of the new private cabanas (they fit six), your home for doing nothing, in a swimsuit, for the rest of the day.
As the sun lolls by overhead, you'll be greeted by a very nice person, ready to offer you some
Catalina Ceviche
, a half-pound burger or a rubdown whose only soundtrack is the crashing waves. You can even catch up on some email with your toes in the sand.
But if you do start getting antsy, wander over to one of Descanso's two new outdoor bars, and on Fridays and Saturdays (starting June 25) you can drop your own steaks on a monstrous 25-foot grill.
You'll also be happy to hear this is now Catalina's home for kayak rentals, snorkeling gear... and
taking to the zip line
.
Your move, In-N-Out.