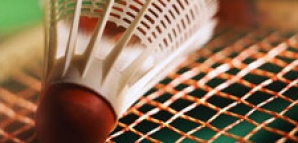 Your favorite bar has closed, and you're dying for...an after-hours game of badminton.Far, far away from your usual haunts is a fiercely competitive all-night hideaway with 13 courts (and five ping-pong tables). Prepare yourself for the mind-bending experience that is the SanGabriel Valley Badminton Club.

You'll arrive after driving east on the 10, long after the lights of Downtown have faded from your rearview. The letters "SGVBC" atop the huge building confirm you've found the entrance, though the inconspicuous, propped-open red door looks just as likely to lead you into a boiler room as a badminton paradise. Listen closely, though, and you'll hear the whooshing of rackets, the intense tapping of birdies—and the Sharapova-level grunting from the extremely focused die-hards packing the courts inside.

The information desk doubles as a sales station, so you can stock up on all the necessary accessories—shirt, shorts, sweat bands and, of course, racket and birdie—to prove you mean business. If this is a spontaneous badminton adventure, just proceed to the court you like—the ones in back are less subject to foot traffic—and add your name to the first-come, first-served list taped to the wall. But demand is high, so you also have the option of booking a court (and a coach, not that you need one) online beforehand.

Because when it's down to badminton or sleep, there's really no question.