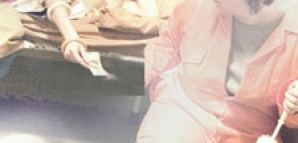 Sometimes—just sometimes—there is actual culture to be found in celebrity culture.Take
Alison Jackson: Confidential
, the new not-what-it-appears-to-be book from the infamous photographer who is being exhibited in Los Angeles for the first time this December.
You might've seen Jackson's documentaries on the royal family and Tony Blair, but you may not be familiar with her intricately crafted photos—or the process she uses that's not immediately apparent upon first glance. Step one: Find striking look-alike of celebrity or political figure.  Step two: Find complementary and often minimally attired extras. Step three:Stage absurd yet oddly revealing photo utilizing the look-alike that comments on the actual figure.
The results involve everything from "Paris Hilton" bribing an inmate in jail to "Jack Nicholson" with two blondes on a water slide to a private moment with "George W. Bush" visibly mystified by a Rubik's Cube.
And if you or anyone in your life happen to look like Gordon Ramsay, Lily Allen or Gordon Brown, well, Jackson would like to have a word with you.  Her
website
has the details, or you can impress her in person at the gallery exhibition in a couple weeks.
Which leaves you plenty of time to gather your extras.