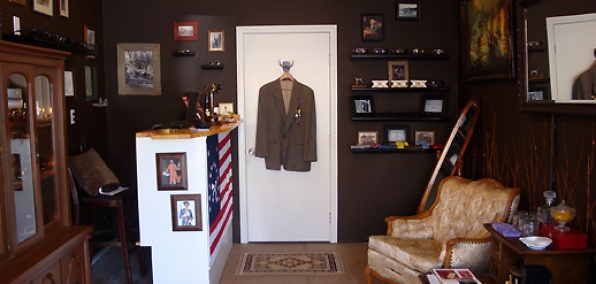 Nobody else has a face like yours.

They shouldn't have your shades, either...

So we wanted to direct your attention toward a newish den of rare vintage eyewear called Gentlemen's Breakfast, now open in Echo Park.

The shop is basically the size and feel of your grandfather's garage, a small trove separated from the street only by a rolled-up door.

It's the kind of secret hole-in-the-wall where you can find a pair of 1960s prison glasses, made from nylon instead of acetate so prisoners couldn't shank anybody with them (perfect for that Alcatraz-chic look you've been going for lately).

The proprietor, Van de la Plante, is a certified optician, so he can fit your prescription—regular or tinted—into just about any frames he's got. That includes classic Dunhills (good for outdoor weddings this summer) and Tura aviators from Japan.

There's also scotch to help you get in the right frame of mind (no pun intended), and if you become a regular, you can keep a personal pipe on hand, ready anytime you want to step outside for a smoke.

So, essentially, it's a cigar bar with glasses...