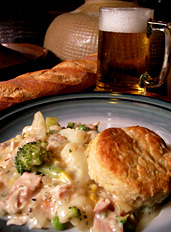 Your mom has a full agenda this Sunday—after all, she and mimosas have some serious catching up to do.
So when it comes time to remember some of her homespun TLC, you'll just have to outsource.
Get your potholders ready:
Johnny Casserole
is standing by right now to bring homey, Pyrex-encased comfort straight to your door. And we'd never dream of telling your mom this, but you're trading up.
This casserole-delivery service is run by one Mr. Casserole (note: not his real name), who offers mother-replacing culinary cred that includes stints at the Cooking and Hospitality Institute of Chicago, Atwood Café and Speakeasy Supper Club. (When replacing your mother, always check the résumé.)
That means your mac and cheese will come gilded with bacon, crawfish or andouille sausage. And while your mom's shepherd's pie was good, it was never premium-grass-fed-beef-and-cremini-mushroom good.
Monsieur Casserole has 10 baked masterpieces—from lasagna to jambalaya—ready for your next dinner party. You'll order a day in advance, and they'll arrive ready to heat and serve to about eight of your friends. Since your dinner parties have a way of becoming brunch soirees, stock up on cream cheese-laced French toast casseroles, egg stratas and apple-pear cobblers.
We won't tell Mom you're seeing another cobbler.