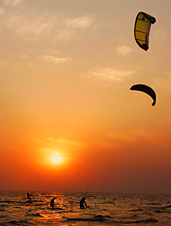 You've been cooped up too long.
You've had to sustain the excruciating stresses of blind dates, mystery sushi nights and seedy happy hours in Southie.
You need an outdoor release. We're talking about kiteboarding.
Presenting
Air Support's Weekend Warrior Camp
, the only two-day kiteboarding intensive taught from a fully licensed pro shop in New England, going down this weekend in Cape Cod.
If you're saying to yourself, "I want to do this... but wait, what's kiteboarding?" know this: kiteboarding, as defined by our friends at Wikipedia, is a surface water sport that uses the wind to pull a rider through the water on a small kiteboard (you might also know its cousin, kitesurfing).
On Day One, you'll meet your trainer, gear up, learn the basics (landing, launching, water relaunching) and explore the lost art of body dragging. By Day Two, you'll continue with water relaunching, then move on to one-handed body dragging and some other stuff you never saw in
Point Break
.
All in all, you'll spend between four to six hours in the water, and you'll come away with an IKO Certified Card... which never hurts to have the next time you're in Cabo.
But if you're a sucker for gas-powered water sports, Air Support also offers a fully licensed wakeboarding class along Bass River, right across the street from the pro shop.
You gotta admit, it's convenient.