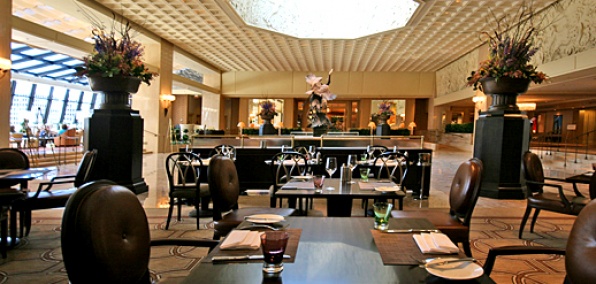 Ah, the Ritz.

The name itself is synonymous with elegance, style, history and class. And from here on out: mojitos.

Welcome to Deca, the relaunched (and more than a little boozed-up) bar and restaurant on the 12th floor of the Ritz-Carlton in Water Tower Place.

Of course, it's still inherently Ritzy. The marble floors, the stunning views, the soaring ceilings. But after a long, bothersome day, when all you want is something tall and sweet, find your way to Deca's bar. (And as long as you're there, grab a drink.)

The area once known as the Greenhouse has been unfussied (they had to forcibly remove the ladies who lunch, but it was worth it). It now feels like a private, post-work indoor terrace. Under the shadow of the Hancock, you'll be able to sink into a Lazy Day Fizz (bourbon, peach puree), fresh oysters or something from the design-your-own-mojito bar. (You're still fussy about what gets muddled in your drinks.)

The dinner menu is now squarely in the duck confit/steak frite/towers of shellfish brasserie tradition, so we think your mother will eagerly approve if this replaces her annual brunch on Sunday. On Saturday, however, when you're with someone who definitely is not your mother, you'll be happy that the dining area is now semi-secluded.

And happier still that the hotel rooms are as private as ever.