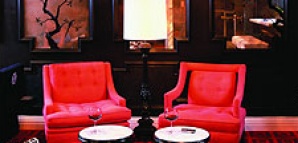 With holidays come festivities.

With festivities come relatives. And co-workers. And co-workers' relatives. And...relatives' co-workers.

Thankfully, the hidden-away Maison140 hotel has just made itself available with a rare way to round up any or all of the above. The boutique property can be rented as a whole (yes, including all guest rooms) through year's end for your wall-to-wall, top-to-bottom holiday bash.

Whether culling colleagues, friends or both, you'll provide a lively yet private shell for the mandatory seasonal bonding to take place within. The Beverly Hills side street outside is quiet, but the lobby, small bar and each of the 43 individually designed rooms are overstuffed with enough French-Mandarin opulence (courtesy of Kelly Wearstler) to ensure your hall-hopping guests won't lack for small-talk topics.

Once you've gotten everyone there, you're free to get creative with methods to entertain them all. We might suggest a wine and cheese tasting—you may have previously stepped into Bar Noir for just such an occasion—but a 43 course (and room) dinner, lobby parties or the largest game of hide-and-seek in your life could all theoretically factor in.

Well, probably not that last one. But stranger things have happened.