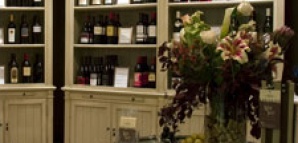 You always thought you could accomplish more in a parking lot than just...parking.

Like get your hands on a rare Merlot, for example. Next time you deposit your vehicle underneath Rodeo Drive, you can instantly select from about 100 hard-to-find bottles inside the newly opened Wine Valet.

After leaving your keys with the actual valet, you'll find the Wine Valet shop—not much bigger than a cork—just inside the lobby housing the elevator for the Two Rodeo boutiques (Porsche Design, Tiffany & Co., etc). The brick-bedecked nook offers an eclectic, frequently changing selection of domestics and internationals that might include a K Syrah from Walla Walla, Washington or an Edi Simcic Chardonnay from Slovenia. (You've been meaning to stock up on your Slovenian whites.)

The store—owned by Women & Wine, a combination that's difficult to argue against—is also available for your private-parking-lot-party needs. You can arrange anything from an auto-adjacent tasting for a dozen friends inside the shop to a wine-soaked blowout for 200 on the cobblestoned corner above. Staffers also function as wine concierges, there to help you locate your favorite Bourdeaux—and spare you the burden of shopping around in actual sunlight.

Now if only your dry cleaner would install that martini bar...