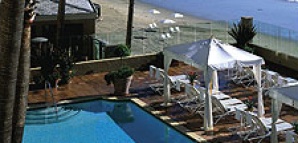 Nothing says "holiday season" quite like a blue-skied, beachside road trip.Thankfully, the proprietors of Surf & Sand Resort have been busy investing $6 million in the property to give you a worthwhile destination.

No matter which remodeled room you book, you'll have a 42-inchflat screen, a private balcony looking out on the ocean 20 feet away—and a pair of complimentary earplugs, also for...the ocean 20 feet away. (Or you could book one of the suites with a wet bar and go heavy on the Johnnie Walker.)

You'll also want to keep the ocean in mind when booking a table at the restaurant—you want a table by one of the walls of windows that open up, or out on the patio. But at the bar, location doesn't matter much—you shouldn't have much trouble finding a memorable view of the sunset over Catalina Island (and likely a couple of bridesmaids).

If you feel like a getaway from your getaway, you can leave the car in the valet. You'll find laid-back restaurants, bars and plenty of art within walking distance. You're familiar with the enclave's reputation as a haven for galleries, and some of them are even good—we just saw a Degas and a Mondrian at Rohrer Fine Art a mile up the street.

Striking works of art. Just like those bridesmaids.